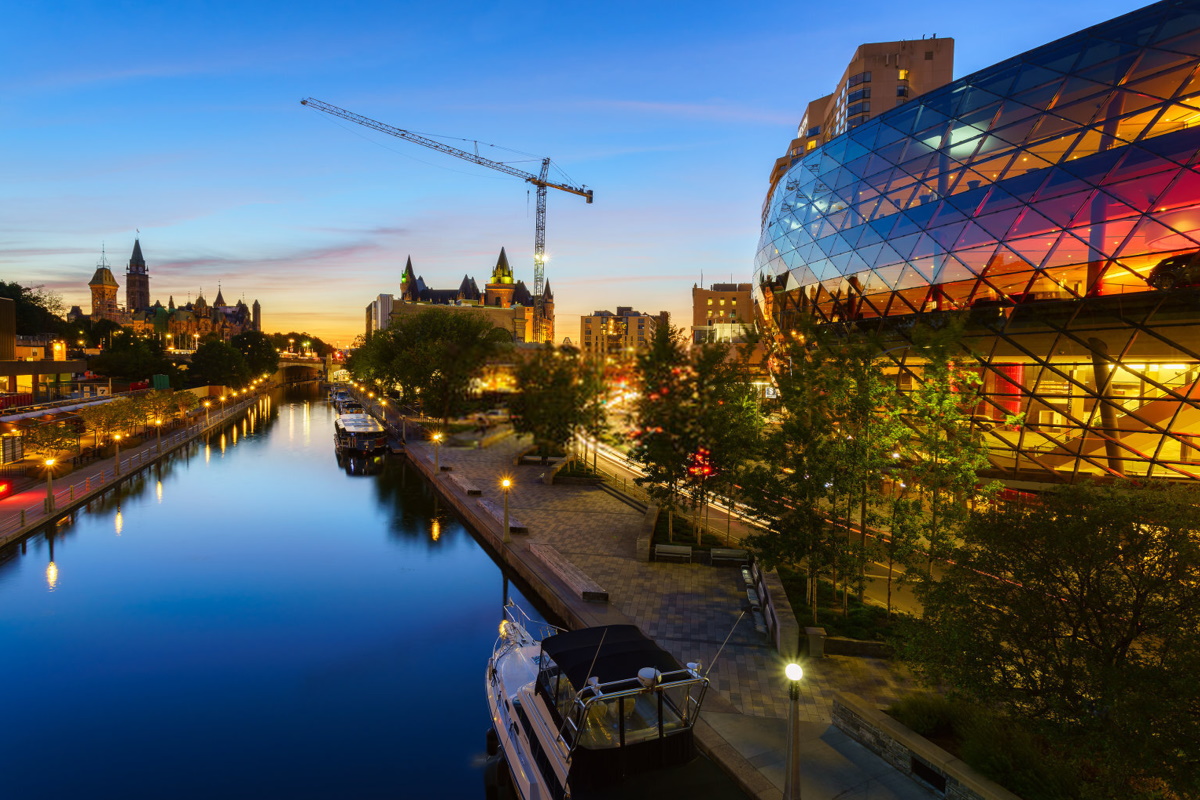 About the Area
The Ottawa Macdonald-Cartier International Airport (YOW) is located at 1000 Airport Parkway Private, Ottawa, ON K1V 9B4, Canada.
Situated just at the south end of Ottawa City, this airport is surrounded by many hotels nearby that offer passengers and travelers a convenient and comfortable stay in the city. The nearest hotel is the Hilton Garden Inn Ottawa Airport, which is less than a mile away from YOW.
The Ottawa Macdonald-Cartier International Airport is named after two of Canada's founding fathers, Sir George-Etienne Cartier and Sir John A. Macdonald. It ranks 6th as Canada's busiest airports in terms of traffic, passengers, and aircraft movements. 
The Ottawa International Airport was opened in 1927 on a high plateau in the Uplands, and it served during World War II. It was used as a military base and was called CFB Ottawa South/CFB Uplands. During the 1950s, it was the busiest airport operating in Canada for both landings and takeoffs.
The airport is no longer used as a Canadian Forces Base today. However, it is still a home ground for the Royal Canadian Air Force's 412 Transport Squadron, which provides air transport Canadian government officials and even foreign dignitaries.
The airport has three asphalt runways and accommodates 134,339 aircraft movements as of 2020. It has been using facial recognition technology since 2017 to process international travelers who land at and depart from the airport.
Yes, there are! Passengers can buy food and drinks from a wide range of shops at the airport. There are plenty of options available so whether you want to have a full meal or just grab a quick snack, you can definitely find what you're looking for. You can also explore several stores that sell various items, including beautiful and eye-catching souvenirs.
Yes, it does. There are two available parking areas at the Ottawa Macdonald-Cartier International Airport. The first one is the Parkade Parking Garage (P1), which is a covered parking area with a charging station for electric vehicles.
The other parking area is the Long Term Overheight, which is not a covered area and doesn't have any charging stations for electric vehicles.
There are at least five other airports that operate near the Ottawa Macdonald-Cartier International Airport. The nearest one is the Ottawa Gatineau Airport, which is around 14 miles away from YOW. Others include Ogdensburg International Airport, Massena International Airport, the Montreal-Mirabel Airport, and Kingston Airport (aka Norman Rogers Airport).
Are there car rental facilities?
There are several car rental companies operating at the Ottawa Macdonald-Cartier International Airport, and their counters are located at the Arrivals level of the airport's main terminal. To make an advance booking, you can get in touch with the car rental company of your choice through their respective contact details.
As of 2020, the Ottawa Macdonald-Cartier International Airport served 5,106,487 passengers. This is slightly lower than its passenger count in 2018 when it served 5,110,801 people.
Below are ten of the top destinations or routes for passengers from the Ottawa Macdonald-Cartier International Airport:
Calgary, Canada

Montreal-Trudeau, Canada

Toronto-Pearson, Canada

Edmonton, Canada

London-Heathrow, United Kingdom

Orlando, Florida, USA

Fort Lauderdale, Florida, USA

Cancun, Mexico

Boston, Massachusetts, USA

Philadelphia, Pennsylvania, USA
The following are the top destinations for cargo from the Ottawa Macdonald-Cartier International Airport:
Iqaluit, Canada

Hamilton, Ontario, Canada

Buffalo, New York, USA

Indianapolis, Indiana, USA

Memphis, Tennessee, USA

Montreal-Mirabel, Quebec, Canada

New York – JFK, New York, USA