Welcome to December, where streets are filled with the sounds of merry laughter and there is a mulled wine pop up store on every street corner.
As much as we all love to spend a whole festive season with our family, it's natural during the holiday season to want some downtime and go on an actual holiday. However, how does one do this without paying the extortionate winter mark up fees?
Well, it's a Christmas miracle. With over 20,000 locations to choose from at friendly prices, you can live the billionaire lifestyle on budget as you set off during December.
For the full Christmas snowy experience you're looking for, or if you just want to get a bit of winter sun – here are the top 15 great holiday destinations to visit this December.
1. Rovaniemi & Levi, Finnish Lapland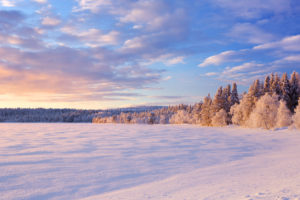 Coined 'The Santa Clause Village,' Rovaniemi is the capital of Finnish Lapland and full of festive family fun.
Stepping into a true Winter Wonderland, you and your family can dive into piles of snow and jump on the Santa Claus Express to meet Father Christmas himself in Santa Claus Village. A trip to Finnish Lapland in December is a magical experience and there are no better Christmas lights than the mystical Northern Lights!
For nature lovers, travel over to Levi where you can explore over 20km worth of hiking trails. Or, if you want a little more action, head out to the area's ski slopes. If it's a snowy Christmas you want, Finnish Lapland has gorgeous snowscapes to admire.
Temperature – highest -4°C / lowest -11°C
Flight Time – 3 hours from the UK
For the Foodies – bite down into an oozing bread cheese dessert, leipäjuusto
2. Stockholm, Sweden
It's easy to be distracted from the cold weather in Stockholm as your eyes take in all the sparkle and twinkly Christmas magic that comes with winters in Sweden.
Wander around Gamla Stan under fluttering snow and explore the museum district. The Modern Art Museum is a must for art lovers, where you will see fabulous art, and enjoy the museum's restaurant overlooking the Djurgården.
If you're looking for memorable experiences then book an overnight stay at an ice hotel or head over to Kiruna to go on a moose and reindeer safari. To add some true magic to your trip, head out to watch the Northern Lights.
Temperature – highest 0°C / lowest -10°C
Flight Time – 2 hours and 15 minutes from the UK
For the Foodies – get into the Christmas spirit with kanelbulle, a delicious Swedish cinnamon bun
3. Brno, Czech Republic
Perfect for a long weekend, Brno provides stunning instaworthy cityscapes coated in pretty snow without the hustle and bustle of city life.
A haven for culture and history lovers, embark on one of Brno's historical walking tours or take up exploring Brno yourself at various World Heritage Sites, visit Saint Peter and Paul's Cathedral or transport yourself back to medieval times as you wander around Brno's 13th-century Veveri Castle.
It's hard not to be soothed by the relaxing atmosphere at Brno, so it could even be a wonderful haven for solo travellers looking to escape the frenzy that comes during the build-up to Christmas.
Temperature – highest -5°C / lowest -10°C
Flight Time – 2 hours from the UK
For the Foodies – try a traditional bowl of garlic soup, or as it's known – česnečka!
4. Moscow, Russia
Although many flock to Russia in the summer, Moscow during the winter truly is a peaceful silent and holy night. With fewer tourists during December, this means you can escape the crowds and truly enjoy the beauty in Moscow without crowds.
Wrap up in your warmest clothes and jump on the famous Moscow Metro, coined the 'Palace of the People' – the world's most extravagant and intricately designed subway system – and head over to the Kremlin or the Bolshoi Theatre to enjoy some beautiful opera or ballet. Visit the iconic Red Square and St Basil's cathedral. Or, if you're looking to let your hair down, try some of the country's famous vodka and caviar!
Temperature – highest 1°C / lowest -7°C
Flight Time – 4 hours from the UK
For the Foodies – Cooked with love by the locals using ingredients from their own gardens, visit Izmailovsky Market for some authentic Russian street food
5. Krakow, Poland
As soon as you step foot onto the cobbled streets of Krakow's main square, Rynek Glowny, you will feel as if you are experiencing Christmas in medieval times – you can even opt for a horse and carriage ride.
Rich with culture and history, Krakow is admired for its beautiful old town architecture by day and enjoyed for its lively buzz by night. You can sip on some delicious flavoured vodka in the old tobacco factory, Tytano which has been transformed into a chic collection of sophisticated bars and restaurants.
Krakow is also another prime location for beautiful Christmas markets where you can step into a sparkling, Christmas wonderland and enjoy deliciously, warming food to keep the cold out.
Temperature – highest 3°C / lowest -4°C
Flight Time – 2.5 hours from the UK
For the Foodies – Krakow is the home of comfort food, pierogi are dumplings stuffed with whatever you like – meat, cheese, vegetables, fruit, chocolate, you name it!
6. New York, USA
From ice skating under the Rockefeller tree to beautiful displays in Fifth Avenue department stores, New York offers the fairytale Christmas you are looking for. However, when it comes to displays no one can outdo Brooklyn's Dyker Heights. The concrete jungle turns into a true light show, where friendly neighbours extravagantly decorate their houses so much so that there is even an official tour bus to admire all the lights!
Between Christmas markets, New York Broadway shows all the museums or simply enjoying St Patrick's Cathedrals the list of fun activities is never-ending in New York.
December is an exciting and fun time to visit New York City, however, do make sure you wrap up warm and wear sensible shoes, as snow can reach up to 11.5 inches in addition to freezing temperatures. Not to worry though, as it's hard not to be warmed by the Christmas Spirit that overtakes New York in December!
When it comes to getting around, you do not need to sit in the New York traffic as there is a 31-mile bicycle route around the island on the Manhattan Waterfront Greenway.
Temperature – highest 8°C / lowest -3°C
Flight Time – 8 hours from the UK
For the Foodies – Manhattan clam chowder is not one to be missed at David Chang's Bar Wayo
7. Dresden, Germany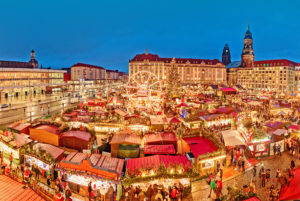 Christmas markets are simply unmatched when it comes to Dresden in Germany. The city centre comes alive, delighting its people with colour, bright lights and the warm glow that comes from the German stollenloaf – a classic, fruit bread that's always popular.
Aside from the jovial funfair style atmosphere, Striezelmarkt is actually one of the oldest markets in Germany and is rich with history, offering World War II walking tours. Find the sweet spot between Christmas cheer and culture, as you explore the Christmas market. Visit Frauenkirche, the magnificent church, or escape the cold and take in some beautiful paintings at Gemäldegalerie Alte Meister.
Of course, it wouldn't be the full Christmas experience without some colder weather, with average temperatures dropping down to 2°C, do make sure to wrap up warm as you explore everything Dresden, Germany has to offer.
Temperature – highest 5°C / lowest 2°C
Flight Time – 3.5 hours from the UK
For the Foodies – Dresden is known for its fruitcake – it's a delicious, instaworthy must!
8. Strasbourg, France
If you want to experience sparkling Christmas markets without having to travel too far, then why not visit Strasbourg this December?
Full of quaint beauty, wander around France's oldest Christmas market and take in the festivities with a huge Christmas tree and over 300 wooden huts in the market offering France's finest handmade gifts and delicious treats.
Take in some culture in Strasbourg Cathedral, or lose yourself in the pretty district of La Petite France. If you're looking for a fun winter break that's easy to get to, then Strasbourg is hard to beat.
Temperature – highest 5°C / lowest -1°C
Flight Time – 1.5 hours from the UK
For the Foodies – say goodbye to pretzels and try a doughy French btrezel!
9. Hokkaido, Japan
If you're looking for a ski break, then Hokkaido is a great choice. After hitting the slopes, you can then warm up in steaming hot springs when you visit Hokkaido during its peak season in December. It's not as crowded with tourists as other Japanese cities so there's still plenty of room to make some snow angels.
Fulfilling skiing dreams is not all Hokkaido has to offer, you can also enjoy breathtaking national parks including viewing Mount Asahi, Hokkaido's tallest mountain at Daisetsuzan National Park. Or if it's calmer, stiller waters you are looking for, then perhaps take a peaceful stroll in Shikotsu-Toya National Park, known for its beautiful lakes.
When the sun sets on the snow, take yourself over to the Ice Village, which pops up every winter where everything from huts to bars and even musical instruments are made from ice. It is a magical sight in the night where all the ice is illuminated, creating a cosy Christmas glow.
Temperature – highest 10°C / lowest -1°C
Flight Time – 14 hours from the UK
For the Foodies – warm up with Ishikari Nabe, a North Japanese hot pot
10. Venice, Italy
Scenic and sophisticated, Venice is an extremely popular destination for tourists. While the city is bursting at the seams during carnival and in the summer months, it's much quieter in December. During the winter you can enjoy the lagoons in their full glory without tourists taking up all the space, allowing your eyes to truly widen as you marvel at the beauty Venice has to offer.
With the tourists disappearing, you can run around the city and explore all the hidden corners of Venice. Immerse yourself in the culture by tasting Italy's best in local restaurants and admire the art and architecture. Sift through the Italian fog, and find your way to St. Marks, the Doge's Palace and Venice's glorious museums while nibbling on a delectable Christmas cake.
However, don't forget to pack some rain boots as it can sometimes pour with rain on The Floating City!
Temperature – highest 7°C / lowest 0°C
Flight Time – 2 hours 15 minutes from the UK
For the Foodies – You cannot visit Venice with trying bigoli in salsa, which is pasta in an anchovy sauce
11. New Zealand
Switch from snow to some sun in December as it is summertime in New Zealand during December. You are not short of wonderful activities when visiting New Zealand from surfing to relaxing on the beach or hiking up the picturesque mountains. If you want to get some Christmas shopping done, then head to the city or one of the many farmer's markets.
However, don't let the long sunny days fool you into thinking the Christmas spirit has disappeared – in the build-up to Christmas the streets are filled with the festive spirit as you can shop, eat and drink as much mulled wine as you like.
If you're a fan of The Lord of the Rings films, then you can go and see where these epic stories were filmed, with more than 150 locations in the North and South Islands.
Additionally, as you an entering New Zealand's summer season, it is the best time to connect with nature and do some whale watching and spot some orcas.
Temperature – highest 30°C / lowest 20°C
Flight Time – 24 hours from the UK
For the Foodies – with over 14,000 kilometres of coastline, New Zealand's crayfish and seafood is unmatched
12. Goa, India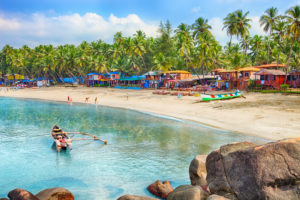 The warm temperatures only seem to turn up the heat on the Christmas spirit in Goa during December. Palm trees are twinkling with fairy lights and tinsel and beach bars are roaring with laughter, merriment and dancing.
Christmas cheer runs throughout Goa with fireworks, Christmas trees and Santa hats dotted around the beautiful settings. As India's most liberal state, if you want to celebrate the festive season in style then Goa is the place to be, with parties and people dancing all night and day long.
If you're looking to enjoy a peaceful sunrise rather than a 'How is it morning already?!' party scene, then head over to peaceful spots such as Arambol, Mandren, Palolem for a more dreamy and tranquil feel on striking yellow sand beaches.
In fact that the restful opportunity one step further and harmonise with nature in a clamping tent at one of Goa's Yoga retreats, Yogamagic Eco Retreat in Anjuna where you can enjoy all-organic vegetarian meals and relax in clamping tents and mailrooms built from reclaimed materials.
Temperature – highest 33°C / lowest 22°C
Flight Time – 12 hours from the UK
For the Foodies – try some sanna, a spongey steamed rice cake
13. Madagascar, Indin Ocean
Reconnect with nature in Madagascar's rich rainforests where you can spot lemurs, chameleons and a whole host of other colourful wildlife. Madagascar breaks the barrier between humans and wildlife as you can swim with sharks, visit crocodile farms or head over to Ile Sainte Marie for some whale watching.
Balance your energies with beautiful beaches and then hike around beautiful woodlands or the Tsingy de Bemaraha Strict Nature Reserve. Early December is a wonderfully tranquil time to visit before cleansing rainfalls later during the month.
Temperature – highest 30°C / lowest 24°C
Flight Time – 12 hours from the UK
For the Foodies – Romazava is the national dish of Madagascar, a side dish served with rice
14. Canouan, The Grenadines
For some peace during the busy Christmas season, Canouan is the perfect Caribbean hideaway providing a haven of relaxation and beauty.
Savour the peace and access Tobago Cays, which are protected small islands and pristine coral reefs which are a major government-owned attraction.
Stopover at the marina and admire the beautiful architecture, where you can shop and have some delicious lunch at the restaurants lining the marina, or if you're feeling adventurous after the relaxation, try some scuba diving!
Temperature – highest 28°C / lowest 21°C
Flight Time – 13 hours from the UK
For the Foodies – sample some madongo dumplings made from native arrowroot, which is also free from gluten!
15. South Australia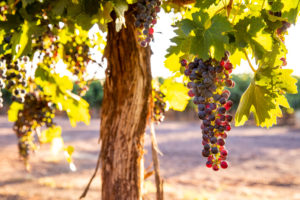 Take the road less travelled as you head over to South Australia to enjoy the first few rays of sunshine as December is the start of summer, perfect timing to lounge on gorgeous beaches. It's also a great time to explore the natural beauty of the area, and you will find some lovely grape-growing regions, like Barossa Valley and the Clare Valey.
If you want a city break, then head into Adelaide. Shop on the high street and find your way to the Adelaide Central Market, where you can catch live music on Fridays. Or relax in the Adelaide Botanic Garden, then soak up some culture at the Tandanya National Aboriginal Cultural Institute.
Of course, wildlife in South Australia does not disappoint, from Kangaroo Island to South Australia's zoo teeming with Australia's wildlife.
Temperature – highest 28°C / lowest 21°C
Flight Time – 13 hours from the UK
For the Foodies – South Australia is best known for its Coffin Bay King Oysters
Take your pick of the best places to be in December, whether you're looking to elevate or escape the Christmas season!